Sunday 2 Apr 2006 - Short Croquet Tournament at Nailsea
On Sunday we sent a team of 4 to compete in a Short Croquet Tournament held at Nailsea Croquet Club in North Somerset.
This event uses a form of croquet called Short Croquet which employs smaller courts and shorter timed games - the idea of this tournament is to provide some an early season experience for players at any level. Games are fully handicapped which allows all players a chance of victory!
Ten teams from Wales, Central and Southern England took part.
The Cornwall team, Ian Wilson (8), Tony Jennings (14), David Edwards (18), and Colin Hadley (20) are relatively inexperienced but performed well winning 11 of their 16 games and ended up equal first in their division, tieing with a team from Dyffryn (Wales).
The winner was then decided using a penalty shoot-out system, with Tony Jennings hitting the peg in the second round also thus confirming victory for the Duchy's side.
This was a fine win for our club, which this year is entering teams in the South West Federation's B and Federation leagues.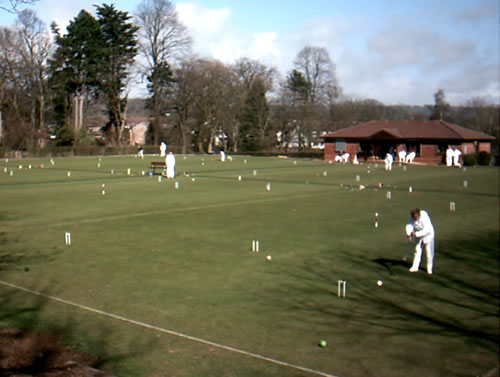 Picture by Kriss Chambers. More Pictures