Sun Jun 18, 2006 - SWF B League v Budleigh Salterton
Cornwall's B League players travelled to the south west's premier croquet club, Budleigh Salterton for an away match on Sunday 18th June.
The match was played in a friendly spirit and Cornwall's less experienced players enjoyed the opportunity to play on top class courts.
The result was a win for Cornwall 4 matches to 3.
The Cornwall team: Colin Hadley (Captain), Stephen Read, John Dowding and Rosemary Bradshaw.
The Budleigh Salterton team: Elaine Norsworthy, Anne Marshall, Peter Johnson and Malcolm Beaver.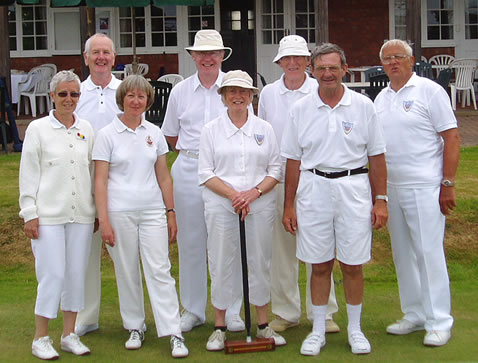 Back row: Peter Johnson(BS), Malcolm Beaver(BS), Stephen Read(CCC), Colin Hadley(CCC).
Front row: Elaine Norsworthy(BS), Anne Marshall(BS), Rosemary Bradshaw(CCC), Colin Hadley(CCC).
Report and Photo by Rosemary Bradshaw, press officer Cornwall Croquet Club (Tel. 01726 832034)