Introduction:
It is six months since my last newsletter. I was away, playing, for two months of this but nevertheless the gap is too long.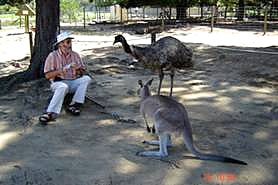 And now the season has started with a glorious period of nearly continuous sunshine, the lawns are looking better than I thought possible a month ago and the first competition takes place next weekend, the Club elimination for the All-England Handicap Championship. You will remember that Nigel Grant was in the finals last year and was only beaten by the winner on the golden hoop. So it might be worth watching if the weather is fine.
Congratulations: to Ron George who quietly took himself off for a Golf Croquet Referee's course without telling anyone and duly passed the examination at the end. This is a great bonus and benefit for the Club. And it is typical of Ron that he should have done it with so little fuss – well done.
Coaching Courses: Cliff Jones conducted two courses, a Bronze Course on 14 and 15 April and a Silver Course on 16 April, on our lawns, sponsored by the South West Federation. In my view, he was a brilliant instructor and we all should have gained immeasurably. The challenge now is to keep up with what we learnt and thereby improve our croquet in the long term.
During the Bronze Course, Nigel and I assisted and, in the process, were promoted to Grade 1 Coaches – a blue badge instead of yellow!
Positive Play Scheme: the Club launched this scheme at the AGM, the aim being to encourage positive play in Association Croquet by: -
Building breaks
Using bisques effectively
Winning matches by pegging out
The scheme will reward players meeting these objectives with: -
Merit Points for various achievements in matches
A Positive Play Trophy for the Club member acquiring the most Merit Points during season
Club Awards for reaching particular milestones in matches
Matches must be singles matches in recognised club or inter-club competitions.
You can see full details of the scheme in the Club Pavilion and on the Club's web site.
Merit Points and the Positive Play Trophy are open to all members with handicaps of 14 or more at the start of the summer season. Club Awards are open to all members.
To gain the Merit Points or Award, the member must complete the form held in the Pavilion, including the signature of the opposing player. Up to date information will be posted on the notice board.
Booking Lawns: The booking sheets will, as usual, be on the shelf in the Equipment Hut but, for those far distant members, Colin Hadley has volunteered to take your bookings by phone (01726 891696) and let you know if the lawn is available.
Pavilion Maintenance: David Edwards has already seized the moment and put a coat of preservative on about two thirds of the exterior – until he ran out of juice. Further help is needed both to complete that job and to put another coat of varnish on the floor. (I put three coats on when it was built but another is needed now to preserve the seal). Any volunteers please contact David direct.
Open Days, Visitors, etc.: I feel that we are always calling for volunteers for various chores and you probably get fed up with our various appeals. However we now have sufficient numbers to run the first Open Day on 7 May although, of course, more volunteers are always welcome.
However we do have a selection of possible visiting parties:
St Austell Archers: Friday, 18 May, 1830 to 2030. This a reciprocal visit, having been invited to return it next winter. We need at least five members to be able to host each short lawn and the pavilion
Falmouth "Good Friends": Friday, 22 June, 1830 to 2030. (I haven't heard from them since their original request).
Lists for the above two are up in the pavilion.
The Bear of Rodborough Croquet Club: A group from this club make a weekend visit to a different club every summer and they are honouring us by coming to Cornwall to visit on 4 and 5 August, staying in local b&bs. They hope that we will be willing to field keen members of all handicaps to play them. I should mention that they will be led by Don Gaunt, a minus handicap and the author of an excellent book "Plus One on Time", but the party will also include at least a couple of 18s. We will organise an opposition for them nearer the time.
Dawson Balls: We are again the lucky recipient of a substantial anonymous donation. The donor has agreed that some of it should be spent on Dawson balls. I have therefore, with the agreement of the Committee, ordered one set each of primaries and one of secondaries from the CA shop. As a result Richard Griffiths has offered to give his own two sets to the Club on semi-permanent loan, providing he can reclaim them occasionally for his own use. We will therefore have enough available to be able to play matches with Dawsons, double-banked on each full-size lawn.
There will obviously be a need for teams or competitors to practise with these balls before matches and this they may do in the few days before each event. In individual club matches, they may be used but only with the agreement of both competitors.
Social Events: The Committee has decided that, as no Social Secretary has been forthcoming, individual members should be encouraged to think of a likely event (such as the very successful visit to the clay museum), take soundings and then organise it themselves. Theatre visits, concerts, scenic walks, coffee mornings, competitive kite flying, bungee jumping, whatever!
This is, I think, important, particularly out of season. Even a Croquet Club cannot live by croquet alone.
Golf Club Afternoons: Due to the number of events taking place on what would otherwise be golf croquet club afternoons, we have added three extra dates. These are clearly displayed on the notice board in the clubhouse.
Winter Party: A decision has already been made for next winter. The party will be on 2 February (my diary doesn't go that far), will be run jointly with the Fowey Club which will provide the entertainment and will be held in Howard's house, by kind permission of Shirley Rosevear.
Croquet Association: I appealed in the last newsletter for those who are members of the Croquet Association to let me know so that we can keep the CA informed of any handicap changes during the season. I gather from the resounding silence that this request apparently inspired that I am the only member of the CA in the club – quite a surprise and a disappointment considering how much we depend on them for support, courses, sponsored competitions and so on.
Tony Backhouse
27 April 2007.