SWF Federation League v Budleigh Salterton
Tue 27 May 2008
Cornwall played their third Federation League match of the season, at home and in good weather conditions. The lawns played well despite the recent wet weather.
Cornwall's team comprised Nigel Grant (8) Captain, Malcolm Hooper (10) & Ian Wilson (7).
In the morning matches, Nigel Grant (8) & Malcolm Hooper (10) played the doubles with a good win +12 over Peter Jones (4.5) & Michael Peters (9) and Ian Wilson (7) won his singles +16 over Brian Pollock (9).
In the Afternoon Nigel Grant beat Brian Pollock +16, Malcolm Hooper beat Michael Peters +11 and Ian Wilson beat Peter Jones in a tight match +3. This win gained Ian a handicap reduction to 6 on the Automatic Handicapping System (AHS).
We all enjoyed a tea and cakes afterwards prepared by Joyce Wilson - thank you Joyce.
Match Referee: Peter Jones.
Final Score: Cornwall 5 Budleigh Salterton 0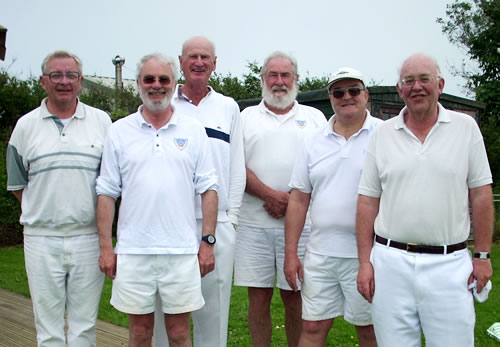 Left to right:
Peter Jones (BS)
Ian Wilson (C)
Brian Pollock (BS)
Malcolm Hooper (C)
Nigel Grant (C)
Michael Peter (BS)
Picture by Nigel Grant