Tue 12 May 2009 - SWF B League
(Played at Cornwall CC)
Cornwall v Sidmouth
The Southwest Federation B-League series for higher handicap players has begun.
On 12th May, in their first match the Cornwall Club, playing on their home lawns at Porthpean, met a visiting team from Sidmouth. The match consisting of six singles games and one doubles was won by Sidmouth 4 games to 3.
The closeness of the match, however, is seen from the total tally of hoops run being 66 to Sidmouth and 64 to Cornwall.
Cornwall's next B-League match is against Budleigh Salterton, again at home, on 19th May.
Final Score: Cornwall 3 Sidmouth 4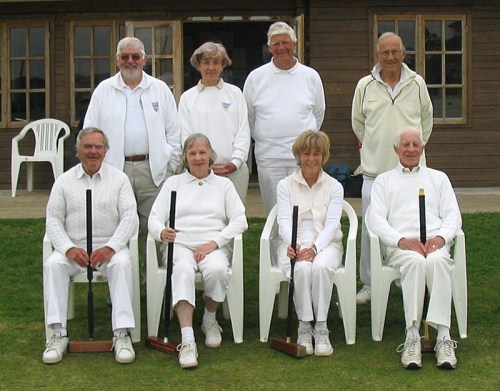 Cornwall standing. From the left - Des Honey, Jenny Burrows, Ron George and Tony Dyson.
Sidmouth seated. From the left - John Coombes, Helen Pryor, Pam Bowra, Graeme Pryor.
Photograph by Stephen Read.