Tue 02 Jun 2009 - SWF Federation League
(Played at Cornwall CC)
Cornwall v Sidmouth
In wall to wall sunshine on Tuesday 2nd June Cornwall played Sidmouth in the 4th round of the SWF Federation League.
At lunch Malcolm Hooper & Tony Jennings(C) had lost to Peter Hills & Derek Powell(S) 21/22T, in the doubles and
Stephen Read(C) beat Peter Miller(S) 15/13T.
In the afternoon Tony Jennings(C) pegged out against Derek Powell(S) 26/11.
Tony Backhouse(C) lost to Peter Hills(S) 16/26.
Malcolm Hooper(C) beat Peter Miller(S) 26/25 in a very close game.
Final Score: Cornwall 3 Sidmouth 2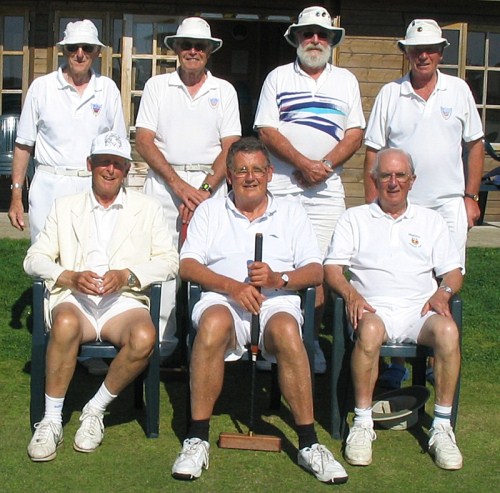 Cornwall and Sidmouth Teams.
Seated: Sidmouth - Peter Miller, Peter Hills, Derek Powell,
Standing: Cornwall - Stephen Read, Tony Backhouse, Malcolm Hooper, Tony Jennings.