Fri 30 May 2014 - SWF Golf League Level Play
(Played at Cornwall CC)
Cornwall v Exeter
Cornwall Croquet Club faced a strong Exeter team in their third level play golf croquet league match on May 30th, played in excellent conditions at Porthpean.
Exeter had brought the minimum team of four, being Adam Wimshurst (Capt), handicap 3, Roger Thorn (4), Ben Relf (6), and Cilla Blackwell (6). Cornwall's team were David Edwards (Capt) (3), Stephen Read (3), Peter Dexter (4), Ron George (5), Paul Schofield (5), and Kathryn Smith (6).
The match started with two sets of doubles, Cornwall losing the first two, but winning the second pair.
This left sixteen singles to play, and although the teams' handicaps were very similar, it soon became clear that Exeter were the stronger players. In the first eight singles, Cornwall managed only one win, by Ron George, leaving Exeter 9-3 up. As in the recently played handicap match, Exeter's hard-hitting Ben Relf proved to be deadly accurate both in clearing and hoop running, and won all his singles.
By this time, Cornwall's realistic ambitions had reduced to improving on their 2013 score. This looked increasingly unlikely until Dexter got a win against Blackwell, and Smith managed two excellent wins against higher ranking players, thus ensuring that Cornwall did improve on last year's score, albeit only by a half point!
Final Score: Cornwall 6 Exeter 14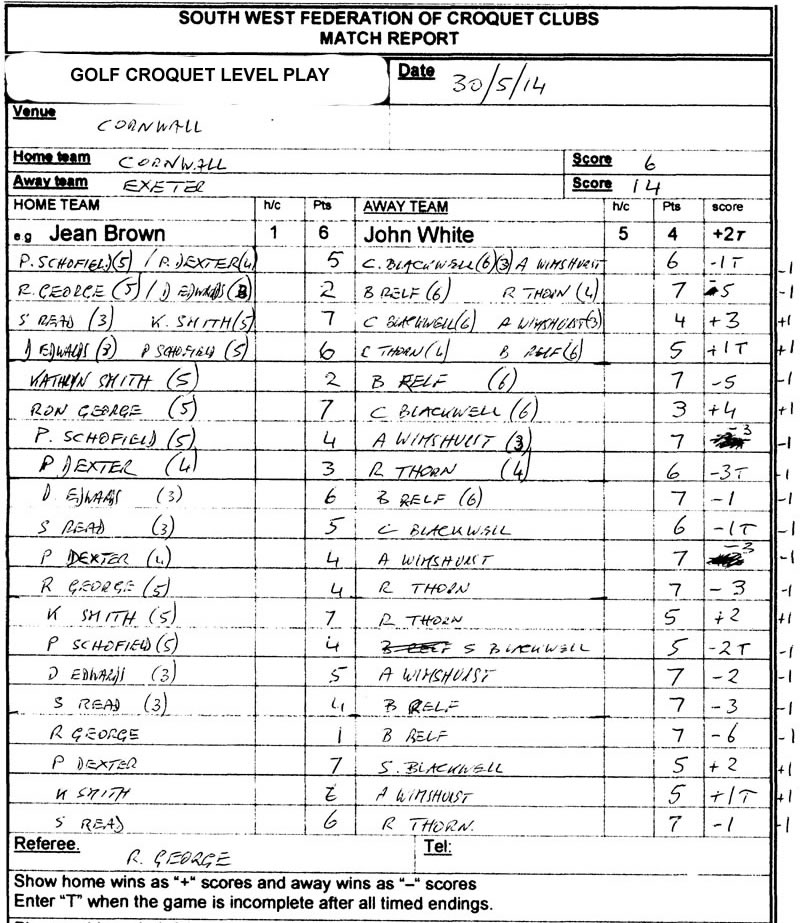 Report by David Edwards.