Fri 01 Aug 2014 - SWF Federation League
(Played at Cornwall CC)
Cornwall v Exeter
Exeter's team comprised Adam Wimshurst (2.5), Roger Thorne (6), Mark Macnair (9, capt.) and Lloyd Kimber (12), against CCC's Richard Griffiths (-1, capt.), Peter Cutting (5), David Edwards (6) and Stephen Read (14).
The morning weather gave some short sharp showers that led to very changeable lawn conditions that were rather unsettling for everyone. The doubles pairings of David and Stephen vs Roger and Lloyd produced a close matching giving 1 bisque to Cornwall, but the home team pair did not manage to settle into a good break playing mood, and the game went to time with Exeter winning at 21 to 10. Fortune smiled more benignly on the singles, with Peter conserving his 2.5 bisques until a timely opportunity arose enabling him to secure a win at plus 20. Richard deployed his best tactical repertoire against a lot of bisques (ten!), and with a couple of good breaks was able to land a plus 5 win.
Exeter had opted for luncheon hospitality rather than afternoon tea, wanting to get away promptly for the drive home, so a pleasant and unhurried lunch break was enjoyed. Perhaps other clubs may wish to offer this as an option.
The unsettled weather became worse for the afternoon, with more heavy showers to cope with. David was unable to prevail against Mark and his 3 bisques, and likewise Stephen's 2 bisques did not secure a win against Lloyd, both losing minus 17. However, fortune smiled once again on Richard, giving him a plus 6 win against Adam's 3.5 bisques, and likewise on Peter, who secured a plus 2 win against Roger, who, with only one hoop left to make with the other ball, decided to peg-out one of Peter's balls (both of which were for peg). In the process he unintentionally pegged out his own peg ball, leaving Peter a 12 yard trickle to the peg (a fairly safe choice with opponent's other ball a good 16 yards away), which nicely brought the game to an end as the ball bumped gently onto the stick, securing Cornwall's 4:3 match win.
Final Score: Cornwall 4 Exeter 3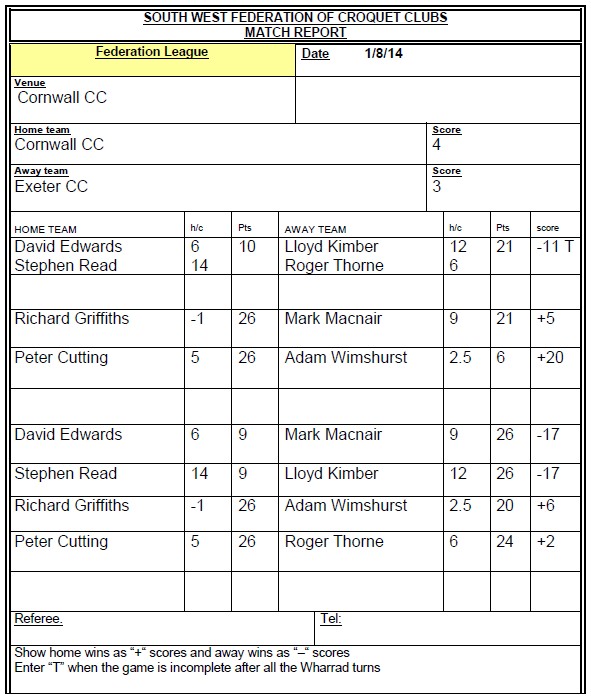 Match report by Richard Griffiths.