Fri-Sat 12-13 Aug 2016 - The Read Trophy for High Bisquers
Six members entered The Tournament, Ron George(16), Pam George(24), Peter Dexter(16), Tony Dyson(16), Margaret Read(20) and Dorianne Forsdick(20).
DAY 1
Play started at 10 o'clock under rather threatening skies. The first round produced 3 close results, indicating the handicaps were about right. During the lunch break the weather started to improve with the clouds lifting & sunny periods developing.
In Round 2 the gaps widened sum-what with 3 peg outs.
Round 3 ended the day with Peter with 3 wins, Dorianne & Margaret with 2 wins each. Pam & Tony with 1 each. Ron with none.
DAY 2
Saturday weather overcast with drizzle which made play unpleasant especially for players with glasses with frequent stops to wipe lenses. After the first round an interesting situation was developing with 3 players on 3 wins each.
The final round started with the tensions rising. The first result in Tony Dyson pegged out against Peter Dexter. Dorianne pegged out against Ron giving her 4 wins & 1 loss.
The last game Margaret v Pam was very close until Margaret did 2 very nice double peels & her remaining bisques got her to the peg when time ran out. So we had Dorianne & Margaret on 4 wins each & 1 loss. The results showed that Margaret had beaten Dorianne, so Margaret wins the tournament.
Stephen presented her with The Trophy & we all relaxed with a well earned glass of wine in the now very pleasant late afternoon sun.
The Winner:

Margaret Read.

Runner up:

Dorianne Fordick.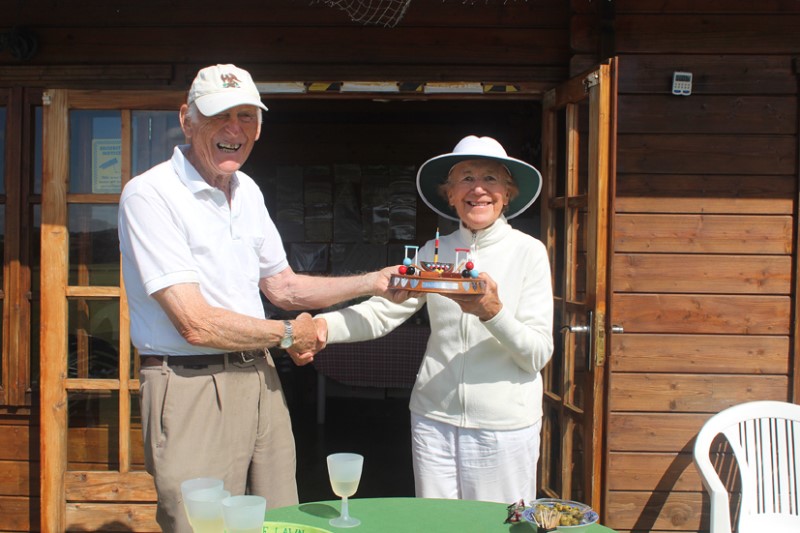 Margaret Read receives The Read Trophy from Steven Read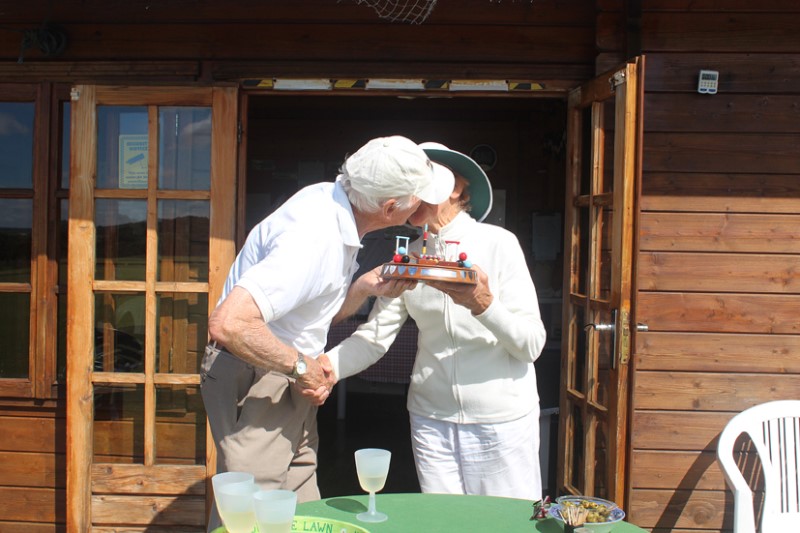 Well done Dear you've done it at last!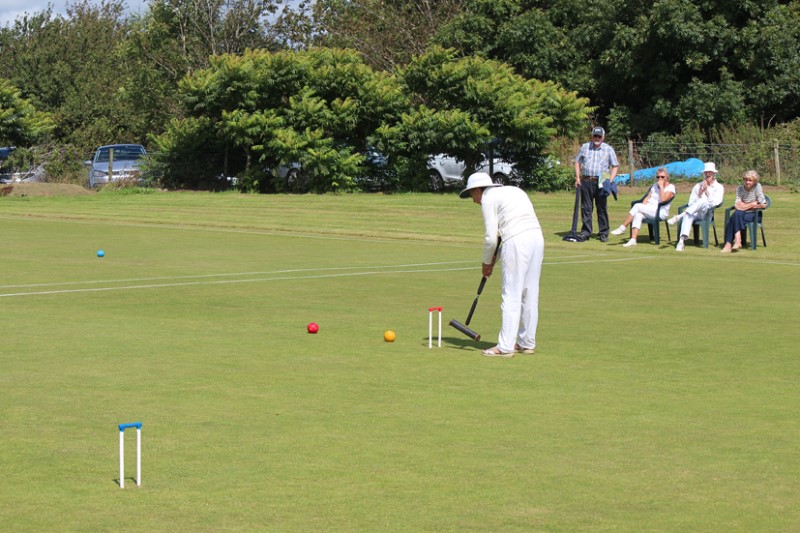 Margaret Read does her 2nd consecutive double peel on way to winning the tournament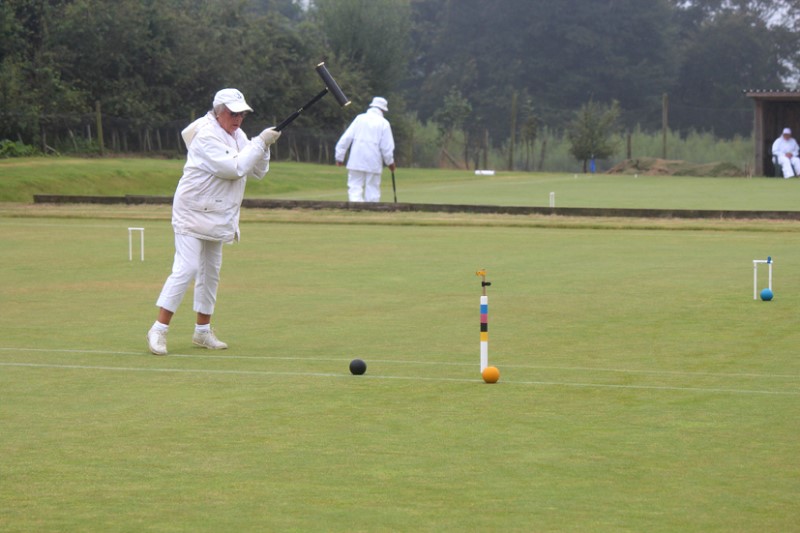 Dorianne Forsdick pegs out against Peter Dexter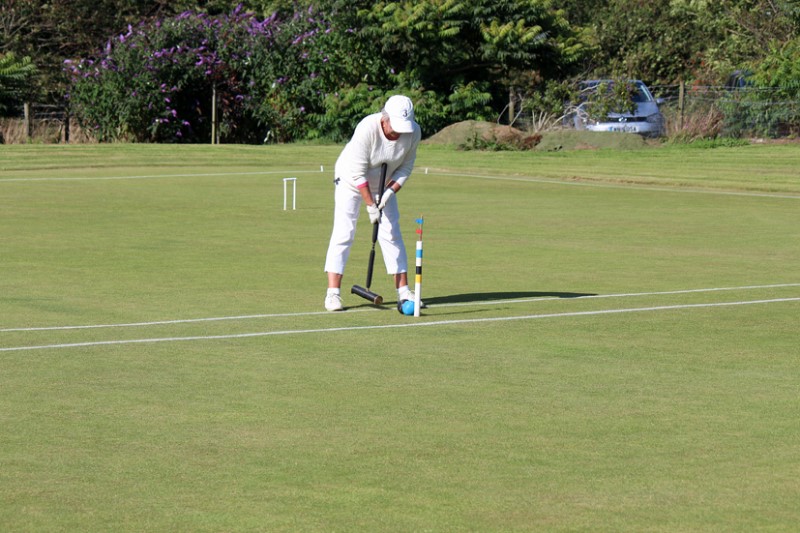 Dorianne Forsdick pegs out against Pam George
Tony Dyson pegs out against Peter Dexter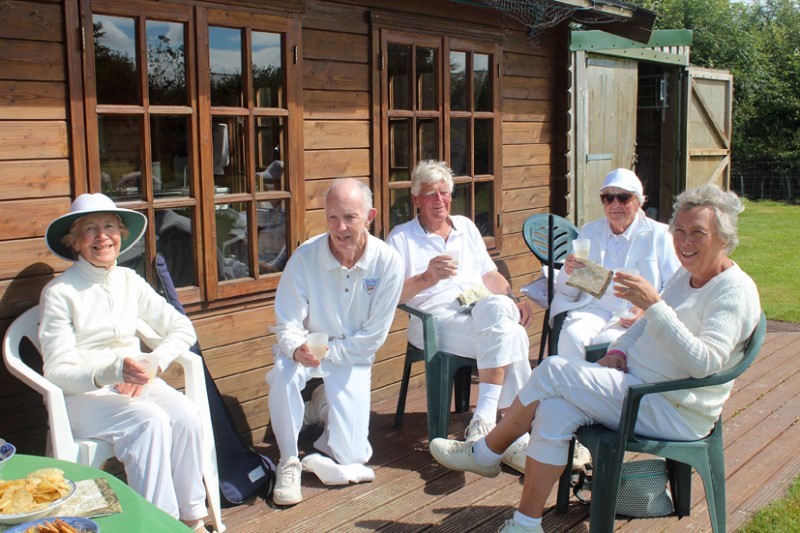 Relaxing with a well earned glass of wine!
Report and Photos by Stephen Read.