Mon 15 May 2017 - SWF Golf Croquet League
(Played at Cornwall CC)
Cornwall Porthpean v East Dorset
Monday 15 May saw Porthpean's golf croquet team host East Dorset. This was to be the visitors' first of three matches over the course of a week which would also take them to St Agnes and Plymouth before starting the long journey home.
The six players' handicaps ranged from 10-2. Those of the hosts ranged from 10-3.
Well accustomed to playing in adverse weather conditions, this being Porthpean's third wind and rain battered match in 10 days, the team achieved an early 7-5 victory when Rhona Foster encountered Martin Isles in a singles game.
The morning's two doubles games both went in Porthpean's favour when Felicity Owen and Russell Moore defeated Carole Deas and Gary Brennan 7-4 and when Trevor Bainbridge and Janet Bell overcame Maureen Isles and Christina Stoner 7-3.
Inspired by an early victory in her doubles game Felicity went on to gain a 7-3 win over Christina followed by a bold 7-2 win over Carole.
Dorianne Forsdick conquered Maureen 7-4 before going on to win 5-4 when partnered with Kathleen Moorshead in her afternoon's doubles game against Roger Parsons and Marion Nagle.
Earlier in the day Kathleen had secured a 7-4 win over Gary and drawn 6-6 against opposing captain Roger as neither managed to run the Golden Hoop in extension time.
The match included a further two visits to the thirteenth hoop. Trevor ran the Golden Hoop in his game with Marion and Russell did the same when challenging Gary, giving them 7-6 wins and earning Porthpean valuable points.
The teams' initial meeting at Cornwall Croquet Club two years ago was abandoned after lunch due to standing water on the lawns and was concluded later in the season. Although persistent, this year's rain was not so heavy and the match was completed as scheduled with Porthpean taking the honors 10 1/2 - East Dorset's 9 1/2.
Final Score: Cornwall Porthpean 10.5 East Dorset 9.5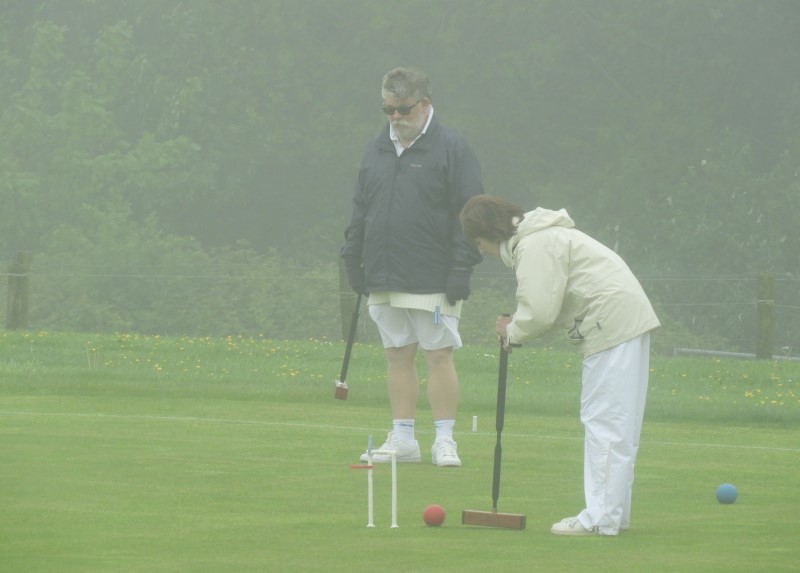 On a wet and misty day, Kathleen runs the Golden Hoop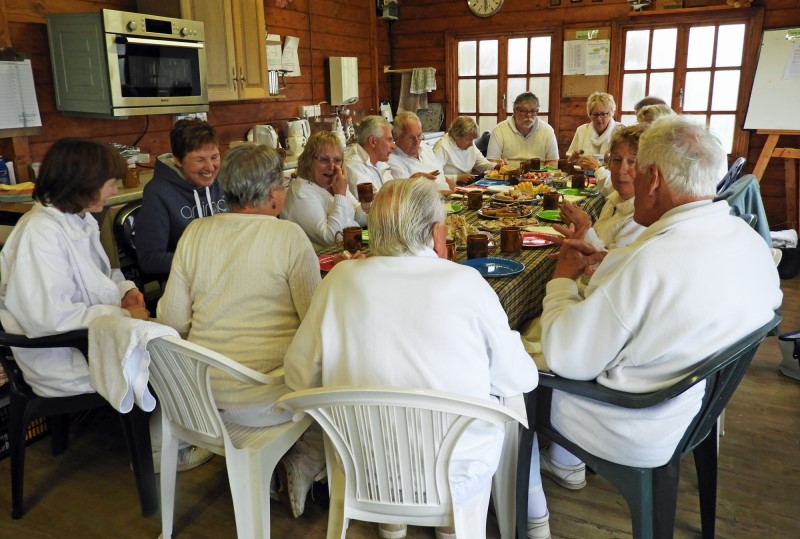 A good tea enjoyed by all at the end of an enjoyable day
Report by Kathleen Moorshead. Photos by Rhona Foster.