Mon 10 Jul 2017 - SwF Golf Croquet League
(Played at Barnstaple CC)
Barnstaple v Cornwall Porthpean
Final Score: Barnstaple 13 Cornwall Porthpean 7
The Cornwall Porthpean GC team visited Barnstaple to play their seventh and final match of the season. For Barnstaple however, it was just their second game.
The weather was overcast with showers as the days play commenced.
First the doubles games were played with Porthpean gaining two of the four points available.
Keith Wakeford and Linda Lang won their game 7/6 against Anne Young and Mella Wright, and Velda Masterson and Gill Barnes were beaten 7/5 by Keith Wakeford and Kathryn Smith.
When it came to the singles games the Porthpean team found the lawns difficult to read with grass longer than they were used to! Howard Rosevear won both his games, Keith winning 7/5 against Jim Wright and Linda Lang having a very successful win against Anne Young with a score of 7/3. The seventh and final point gained by the Porthpean team was secured by Trevor Bainbridge winning his game 7/5 against Gill Barnes.
Barnstaple were the victors winning the match 13/7.
Both teams then retired to the Gazebo for an excellent tea laid on by the Barnstaple team. It was agreed by both teams that all had enjoyed the day very much.
Congratulations and thanks must go to Keith Wakeford who stood in at the last minute and was playing his first ever competitive match. He helped secure three of the seven points gained by Porthpean.
Porthpean team: Kathryn Smith (6), Rhona Foster (4), Trevor Bainbridge (9), Howard Rosevear (9),
Keith Wakeford (10), Linda Lang (10), Janet Bell (9).
Barnstaple team: Irene Fane (8), Jim Wright (7), Ray Young (6), Simon Gibbon (8), Velda Masterson (10),
Anne Young (10), Gill Barnes (10), Mella Wright (10).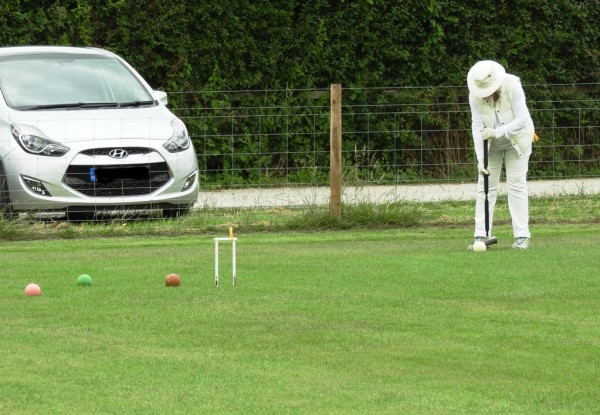 Linda Lang tries for a good position at the next hoop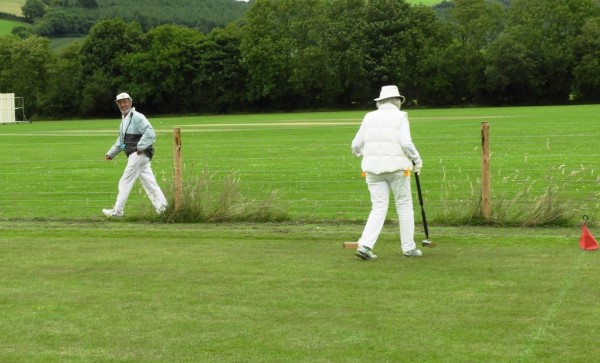 Simon retrieves his ball after hitting it through the fence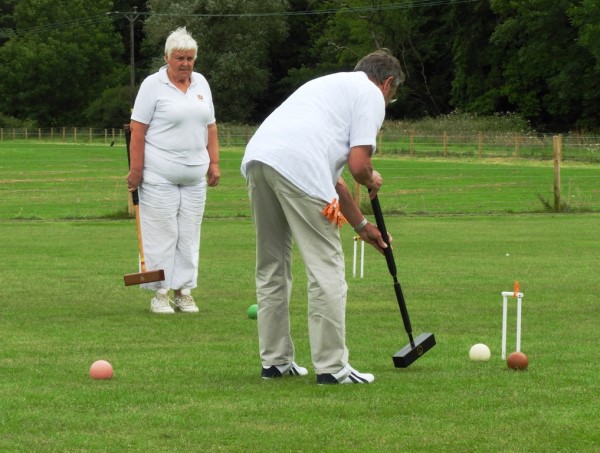 Keith Wakeford runs hoop 9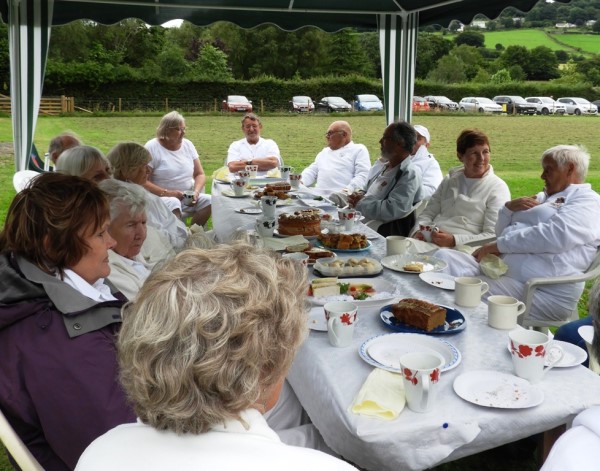 An enjoyable tea at the end of the day.
Report by Kathryn Smith. Photos by Rhona Foster.