Fri 27 Apr 2018 - Charity One-ball Competition
Members started off the 2018 playing season with the annual Charity 'One Ball' match.
In this light-hearted competition members played five fast moving games each, taking turns to run hoops in order with just one ball, the first to go through hoop 12 and then strike the centre peg being declared the winner of the game.
By the end of the day two players, Bob Cash and Russell Moore, had won four of their five games each, but by virtue of Bob having beaten Russell in their individual round first place was awarded to Bob.
Members' donations for the day amounted to £80 which this year was donated to the Sunrise Appeal, Royal Cornwall Hospital.
Over the years the competition has been running the proceeds have been donated to Mount Edgcumbe Hospice and Children's Hospice South West, the club's neighbour in 'Little Harbour' at Porthpean.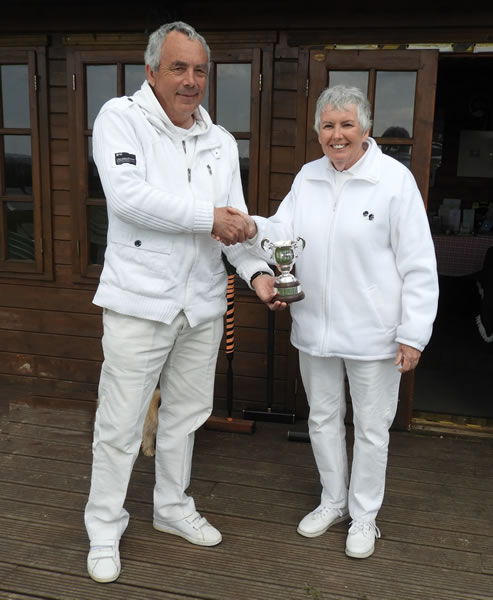 Club Chair, Rhona Foster, right, presents the David Edwards Cup to match winner, Bob Cash
Report by Rhona Foster. Photo by Rhona Foster.